Veg4Reading
Sharing our local Community Harvest
Basic food parcels have been a lifeline for many people in Reading who have found their incomes suddenly drop or struggled to access support during the crisis, and this is an ongoing need through the summer and into the autumn.
To respond to this, Food4Families has created the Veg4Reading project which is supplementing the tinned and dry foods community organisations and charities have been providing with fresh, locally grown fruit and veg from community gardens and allotments across Reading.
Veg4Reading is working through Whitley Community Development Association, New Beginnings, Sadaka, Red Kitchen and the Weller Centre to distribute the fruit and vegetables grown around the town. Simone Prendiville who has been providing food parcels and meals from the Weller Centre in Amersham Road told us, "getting fresh, healthy produce will be a fantastic addition to the regular food support we have been providing to families. There is a real, ongoing need for this support and the fact that this is possible through local growers and volunteers is a great expression of Reading's community spirit".
We have already started deliveries of fresh veg grown in the extra beds we've created at some of our community gardens such as Whitley Growallot and Lavender Place (an amazing transformation of the site of the old Council offices in town, which is worth a visit).
The Community Gardens' staff and volunteers plan and supervise planting and growing, but the project also provides lots of opportunities for people to get out in the fresh air as volunteers, with procedures in place to ensure a 'COVID safe' environment. More volunteers are needed now to assist with growing, collection and distribution through the Summer months and into Autumn. No previous growing skills are required as experienced tutors and others are on hand to provide guidance and support at weekday and weekend sessions in community gardens across town.
If you would like to help or just find out more, please complete the Veg4Reading Volunteer Application Form or email the project co-ordinator at admin@risc.org.uk
Allotment holders and home gardeners have also asked how they can help out so we're now organising a collection and delivery service to supplement this in partnership with individual allotment societies across town. Watch this space for further details or get in touch with the project co-ordinator at admin@risc.org.uk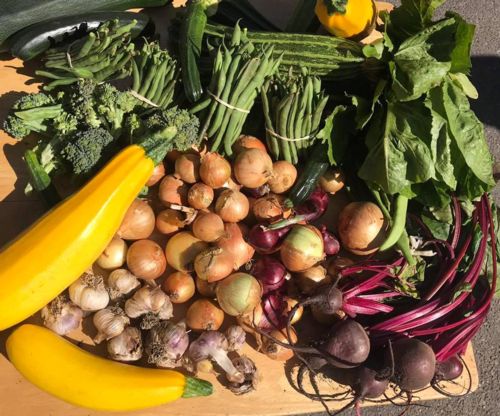 The Veg4Reading project has been made possible through funding from the Government Coronavirus Community Support Fund, distributed by The National Lottery Community Fund, and Reading Borough Council's COVID-19 grants programme.