Tiny Veg Patch
Tiny Veg Patch was set up by Naomi, one of the Food4Families tutors, on Facebook. You can follow the original here: Tiny Veg Patch but we will reproduce some of the ideas and projects below for those not on Facebook:
27th July
There are many flowers that are perfect for small spaces as not only do they look great and attract pollinators they are edible too! They can be added to salads, pastas, soups, drinks and we often use them to decorate cakes as well.
Here are a few I like to grow.
Nasturtiums have edible leaves, flowers and seeds. The flowers and leaves have a peppery flavour and can be added to salads to liven them up! The seeds can be pickled and used in place of capers.
Marigold petals can be sprinkled over salads, soups and pasta.
Chamomile flowers can be dried and used to make tea. Snip the flowers off, leave to dry on a sunny windowsill and then store in an air tight container. To make tea steep flowers in warm water for 5 minutes or so.
Borage has beautiful blue-purple, star shaped flowers that taste mildly of cucumber. They can be be added to salads or cold drinks.
Cornflowers come in blue, pink or white. They work well for cake decoration and can also be added to salads.
Oregano is one of many herbs with edible flowers. These can be used in salads or as a garnish and the flowers have a milder flavour than the herb itself. Other herbs to try are basil, dill, chives and sage.
Love-in-the-mist is one of my favourites to grow with their striking blue flowers surrounded by green fronds and the seed heads look amazing too. The seeds can be used in cakes, breads and curries.
Some tips for using - pick in the morning before the sun is too strong. Flowers are best used fresh but if not using straight away store in an air-tight container in the fridge. It's better to grow your own flowers from seed as then you can be sure they haven't been sprayed with anything and are safe to consume.
9th July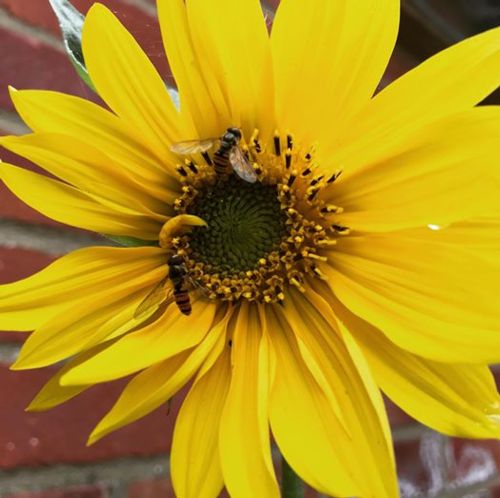 The sun may have gone for now but the sunflowers have started flowering!
I love their cheery yellow blooms and my children have enjoyed seeing the journey from tiny seed to tall sunflower.
Once they've finished flowering we'll leave the flower to wilt and develop seeds and then collect these ready to plant again next year.
Sunflowers are perfect for attracting pollinators too as you can see from the two eager hoverflies in the photo! The yellow outer petals are know as the ray florets and they attract pollinators which then feed on the nectar inside the many tiny flowers which form the centre of the sunflower.
8th July
A bunch of brightly radishes from the garden to brighten up a dull day! This variety is French Breakfast and I love the colour - from a vibrant pink top to bright white at the tip. Continue to sow seeds up to the middle of summer and they are ready to harvest about 4 weeks after sowing. They can be grown in pots or window boxes so perfect for a small space.
2nd July
Our courgette plant is growing really well and has started producing these striking yellow flowers and its first little courgettes, so it won't be too long now until they are ready to harvest!
Once flowers appear feed with tomato feed or comfrey tea every week and water regularly. The leaves grow pretty big and you can get away with removing some of the older leaves so they don't overshadow other plants which is a good idea if you're working with a small space!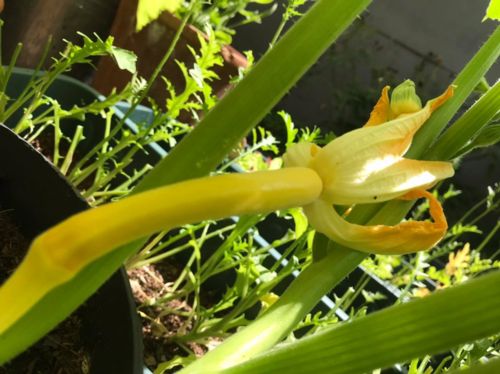 Pick the courgettes when they're fairly small to encourage the plant to produce more fruit. You can often end up with a lot of courgettes so we eat baby ones in salads and cook larger ones. My kids favourite way to eat them is in a courgette cake - no surprise there! It is a really lovely cake and a good way to use courgettes if you end up with a glut. I'll share the recipe here when the courgettes are ready and we make the cake.
30th June
Mint is a great herb to grow in smaller gardens as it can tolerate some shade and also grows well in pots. In fact it is often better to grow it in a pot rather than directly in the soil as it has roots which spread vigorously just below the ground which means it can take over the area it's planted in.
Mint's shallow growing roots make it a really easy plant to propagate too. All you need to do is pull up some mint from the parent plant ensuring that you have a piece of root as well as the upper stem and leaves. Place it in a pot with the leaves just above the level of the compost and water well. Put the pot somewhere where it won't get too much direct sunshine and keep the soil moist. After about 3 weeks the mint should be properly rooted in the soil.
You've now got some more plants to pot up for your own garden or give away to friends and family!
The mint I've propagated from my garden is pineapple mint which has a soft, pale green leaf edged in white. The leaves have a hint of pineapple and it can be added to cold drinks, teas or fruit deserts.
There are lots of other interesting varieties include chocolate mint, ginger mint and grapefruit mint!
29th June
If you're growing cordon tomatoes (plants with a single stem rather than bush tomatoes which have more shrubby growth) then it's a good idea to pinch out the side shoots to encourage the plant to focus its energy on producing fruit rather than lots of leafy growth.
The side shoots are the shoots that grow in between the stem and the leaf branch (see photo). You can save the side shoots and use them to make new plants.
When the side shoot is 5-10cm long pinch it off and put it into a pot of compost so the first pair of leaves is just above the surface. Water well and place on a sunny windowsill and they should take root in about a weeks time. It's a little late to do this if growing your plants outside but if you have greenhouse then you can still give it a go and you get some extra plants for free!
Keep watering regularly and feed with comfrey tea or tomato feed every 7 days.
The plants may also need staking as they grow taller for extra support.
24th June
We've measured our sunflowers again and both my son's and daughter's sunflowers are neck and neck at 135cm tall. It won't be too long now until they flower!
Thanks to those who've been sending me photos of their sunflowers. They are all thriving with this sunshine we've been having and looking great!
20th June
Popping fresh peas out of their pod is so satisfying and you don't even need to cook them - they can be eaten straight away and have a lovely sweet flavour.
The variety we grew in our garden is Douce Provence and although not a compact variety it grew really well in a big pot. We had three plants in a pot and made a small wigwam out of sticks and string for them to clamber up with their curly tendrils. Pea flowers are really delicate and pretty too so it's at nice plant to grow at home.
The peas are ready to harvest once the pod is swollen with peas. To encourage the plant to produce more peas keep picking them. It's getting late to sow maincrop peas now but if you have some spare they can be grown as pea shoots to use in salads.
18th June
Unfortunately we don't have a mulberry tree in our Tiny Veg Patch but we did manage to pick some mulberries when we were out on a bike ride earlier in the week.
My son wanted to make jam with them which seemed like a perfect way to spend a rainy morning. We needed something to with the jam so it was the perfect excuse to make some scones too!
We heated the mulberries in a pan with a little bit of water and mashed them gently to release the juice. Once they were all mashed up we brought them to a gentle simmer. Then we added lemon juice and sugar, stirred it and brought it to the boil. After that we let it cool while we prepared the scones. It didn't make a huge amount of jam but enough to have with the scones and it was very tasty!
You can get dwarf mulberry trees which you can grow in pots if you don't have much room in your garden. You can also buy compact varieties of raspberry, blackcurrant, red currants and gooseberries if you want to grow more fruit but don't have much space.
17th June
Thanks to fellow Food4families Garden Tutor Imke Wilson for sending me this photo of a hydroponics grow pot that her son made using a recycled milk bottle. It's a really nifty self watering system and as you can see from the photo the lettuce seeds have already started to germinate.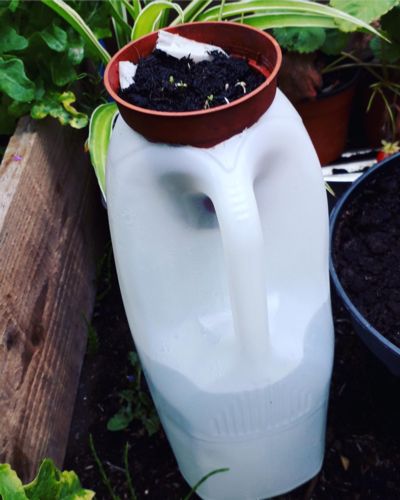 Here's how to do it.
Cut the top off a plastic milk bottle to fit the plant pot
Line the plant pot with kitchen towel, to stop the compost falling into the water
Fill the pot with compost and sow some seeds in it
Fill the milk bottle with water until it touches the bottom of the pot with growing medium and seeds
As the plant grows the water level drops but the roots keep growing into the water. As it's sealed between the pot and bottle the water doesn't evaporate or need topping up!
15th June
I've had a little break from Tiny Veg Patch stuff as I have been busy helping set up a new project called Veg4Reading which aims to grow more fruit and veg in the Food4families community gardens to supply food banks and other organisations in the Reading area with fresh produce.
Not only does it help those who need it in the area it also gives the volunteer fruit & veg growers access to the community gardens which were shut for a portion of lockdown. Opening up access to the gardens, even if it's on a more controlled level rather than drop in sessions, means some of the sites can be used by more people again which is fantastic. Gardening helps you feel good and we could all do with this right now I think!
In the meantime the sun and rain have meant all the seeds I planted in my garden have been busily growing away and I picked this lovely bunch of rocket leaves yesterday!
You can continue to sow rocket seeds now and right through to September. Sowing in warmer months can cause the plant to bolt and produce flower heads which has the effect of making the leaves taste bitter. To avoid this water regularly, plant somewhere where there is some shade and if it does bolt all is not lost as you can pinch off the flower heads and these can be used in salads too (or leave for the bees!) I'm sowing in batches during the summer so if a set does bolt then I'll have some new seedlings to use.
4th June
Our first radishes were ready this week! They are a variety called 'Sparkler' and we grew them in a window box. Quick growing veg such as radishes can be succession sown over the summer to ensure a continuous supply. To do this sow a row of seeds in window box or in a pot every few weeks. Other quick veg to use for successional sowing includes carrots, dwarf french beans, baby leaf salads, lettuce, rocket and spinach.
30th May
My flying saucer squash is ready to plant out - yay! I chose this variety as it's compact and can be grown in pots. The squash are small, yellow and shaped like a little flying saucer, hence the name. They're one of my favourite smaller varieties and I'm looking forward to growing it in my own garden this year!
Here's some tips for planting out squash:
Use a container that's at least 45cm wide and plant one per container or one or two per grow bag. Place container in a sunny spot in your garden.
Fill container with multi purpose compost and plant squash plant inside it.
Keep soil moist but be careful to water compost and not leaves as this can cause rotting and powdery mildew. (You can sink a small pot into the compost next to the plant and water directly into this to stop water splashing on the leaves).
When flowers appear feed with liquid tomato feed every 10-14 days.
Squash will be ready to harvest late summer.
29th May
Growing veg and herbs whether in your garden, on your balcony or in a window box is a fantastic way to attract more bees and hoverflies. This is good news as these insects need all the help they can get as their numbers have declined rapidly. We've enjoyed watching them in our garden this year and this friendly hoverfly landed on my son's shoulder - maybe attracted by the bright yellow of his Barcelona football top!
As the name suggests hoverflies are part of the fly family but are often disguised to look like bees or wasps to warn off predators. Hoverflies have one pair of wings whereas bees have two, they also have short antennae, eyes that cover most of their face and hover mid air. They pollinate flowers and their larvae enjoy munching on aphids so are a good form of organic pest control too.
Have a go seeing how many different types of bees and hoverflies you can spot in your garden or when you're out in a walk as part of National Childrens Gardening Week
28th May
We've been checking the strawberries each day and they're almost ready to eat! My son was remembering how when the first strawberry Erleigh Road Community Garden was ready last year we cut it into small pieces so that all of the children who were there that day could each try a piece!
Growing strawberries is a great way to get kids into gardening and something to try for National Childrens Gardening Week They work well in small spaces such as containers, window boxes and hanging baskets plus home grown strawberries taste the best!
27th May
If you're growing potatoes in pots then they should be earthed up until they reach the top of the container.
They'll also need a thorough watering every 6 - 7 days but keep an eye on the leaves and if they look like they're wilting do it a bit sooner especially if it carries on being this dry!
I'm growing early potatoes (also known as new potatoes) which should be ready to harvest soon after the flowers open - usually in June or July. Have a root around in the soil to find one and if it's the size of a hen's egg then they're ready to dig up!
With maincrop potatoes wait until the plant has flowers and the foliage turns yellow - usually from August to October. Leave for 10 days and then harvest.
26th May
On our walk today we collected flowers and leaves to make a colourful plant rainbow. Thanks to the RHS Campaign for School Gardening for this lovely idea to try out during National Children's Gardening Week.
25th May
Even though our garden is small we've appreciated it so much during lockdown. Being out in the garden plus going for walks has been great for us when homeschooling hasn't worked out (yay for half term this week!) Learning to care about nature, plants and wildlife is important too and this time has really given my children a chance for a bit of a 'wild' education which feels really valuable especially as we live in a town rather than out in the countryside.
This week is National Children's Gardening Week and I'll post some gardening ideas for kids to try at home.
First up hanging planters out of milk bottles which are perfect for small gardens and for plants that slugs and snails love to eat such as salad leaves and Pak Choi. You could also use them for strawberry plants.
We cut the milk bottle in half, I made holes in the bottom and two holes either side to thread with string to hang it up. The kids decorated them with Sharpies and then we planted them up.
Fingers crossed the leaves will not be munched by slugs and snails and we can enjoy them instead!
24th May
I'm planting out a climbing variety of yellow courgette called 'Shooting Star'. It's my first attempt at growing these but they sound perfect if you don't have much space in your garden as they can be grown up a sunny fence or wall.
Some growing tips:
Use a container that's at least 45cm wide and plant one per container. Place in a sunny spot in your garden.
Fill container with multi purpose compost and plant courgette plant inside it.
The plant needs a trellis to scramble up and will need some tying in as it grows.
Keep well watered especially as flowers develop.
When flowers appear feed with liquid feed. The flowers are great for attracting pollinators to your garden too!
Courgettes will be ready to harvest in the summer and regular picking encourages more courgettes to grow.
22nd May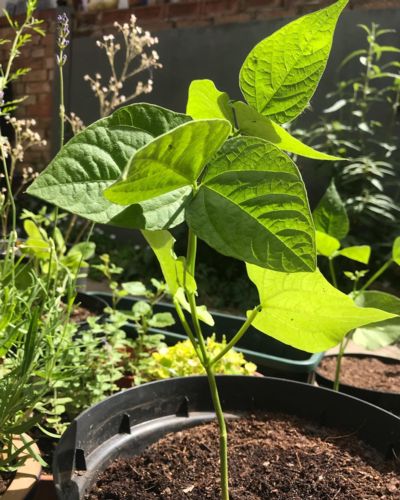 Dwarf beans grow well in pots so are perfect if you don't have much outdoor space.
I'm growing a few different types - dwarf borlotti beans which have beautiful red and green pods with white and green beans inside plus dwarf cannelloni beans which produce green pods with white beans inside. The beans of both of these plants can be eaten fresh or can be dried and stored. I'm also growing dwarf french bean 'Speedy' which produces tasty green pods.
Beans can be sown from late spring to early summer which means you can keep picking them right through the summer.
They need a sunny spot in your garden and can be grown in multi purpose compost.
Water every other day if dry. Once flowers appear feed with liquid tomato feed or comfrey tea each week.
Once the beans have finished flowering bean pods will start to appear. Pick beans when they get to the right size and the more you pick them the more the plant will produce!
21st May
We've planted our our sunflowers now and are looking forward to seeing the cheerful, yellow flowers later in the year. We're planting ours in pots but you can also plant directly in the soil.
As the name suggests sunflowers need plenty of sun so find a sunny, sheltered spot in your garden for them to grow.
Give the plants a good water before removing from the pot. If you are transferring to a bigger pot fill it with multi purpose compost but if planting directly into the soil give soil a dig first and remove any weeds. Carefully remove sunflower from existing pot and place in hole. Fill around plant with compost and firm in.
It's a good idea to stake tall varieties for extra support. Water regularly and enjoy watching them grow!
We'd love to see how yours are getting on so feel free to post photos on our Facebook page.
20th May
As it's so lovely and warm I've been starting to plant out the more tender veg plants. First up my tomato plant which has been happily getting bigger on the windowsill and is definitely ready for a bigger pot outdoors now! I've hardened the plant off over the last week to get it used to outdoor conditions.
Tomatoes can be grown outdoors in a pot (ideally at least 30cm wide) or a in grow bag while smaller, trailing varieties can also be grown in hanging baskets or window boxes. Find a sheltered spot with plenty of sunshine.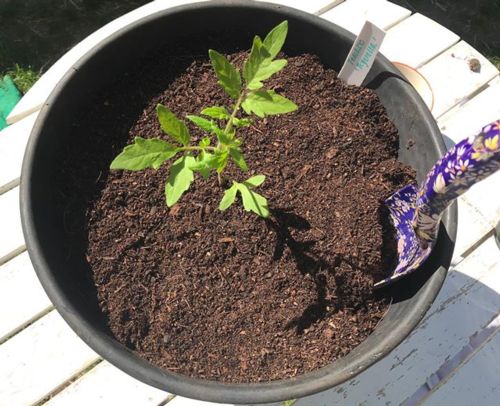 Here's how:
Fill your pot with multi purpose compost and dig a hole for your plant that is roughly 5cm deeper that the pot it's in.
Remove plant from pot and place in hole. Tomatoes have adventitious roots which means they can grow roots along their stem. If you plant them deeper you enable the plant to produce more roots. More roots means more access to water and nutrients and therefore a stronger and healthier plant!
Fill around plant with compost, firm in and water well.
If growing in a container or grow bag it's important to water regularly. Water little and often as this encourages steady growth and prevents fruit from splitting.
On cordon varieties pinch out side shoots that develop between the stem and side branches as they take energy away from the developing fruit. Bush varieties don't need this.
Once fruit has set feed regularly with tomato feed, liquid seaweed or comfrey feed.
Tomatoes will be ready to harvest and enjoy later in the summer. Definitely something to look forward to!
18th May
Perhaps not quite as tasty as the chocolate ice cream that had been in this tub but cress is a great way to introduce kids to gardening. It is easy to grow and will be ready to eat within a week. The seed packet it came is super cute too.
Growing your own veg might persuade your children to be a bit more adventurous with what they eat... that's my plan anyway! Also what better way to learn about plants then to witness the process in action from seed sowing to watching the the plant grow, looking after the plant so it has enough light and water and then to finally eating what you've grown.
My daughter is planning to have this cress she grew here on an egg mayo sandwich for lunch
14th May
Chillies are great plants to grow either on your windowsill indoors or on your balcony or patio. They are tropical plants so need plenty of sunshine. I'm going to grow this plant on our bathroom windowsill which gets lots of sun.
Seeds should ideally be sown in February or March but you can obtain plug plants at this time of year.
Some tips for caring for chilli plants:
Repot when roots appear at the bottom of the pot.
If growing outdoors plant outside once the risk of frost has passed.
Pinch out the growing tips when the chilli plant is about 20cm tall to encourage bushy growth and better crops.
Try not to over water and only water when compost is dry.
If growing indoors keep the plants near an open window so that the flowers can pollinate and set fruit. You can also give the branches a gentle shake on a regular basis as well.
Once fruit appears feed every couple of weeks with a liquid plant feed.
Chillis should be ready to harvest in the summer months and picking them regularly encourages more to grow!
12th May
Last night temperatures really dropped and there was a frost which can damage tender seedlings. An easy way to protect seedlings is to make a plastic bottle cloche.
Here's how:
Take a clean bottle and cut it in half.
Use the half with the lid. You can keep the lid on if it's going to be really cold but also have the option of leaving it off for sturdier seedlings and to allow extra ventilation.
Place over plants when it looks like temperatures will drop.
Push the bottle into the compost to stop it blowing over.
If you've got a bigger bottle you can put the middle section over seedlings to act as a barrier against slugs and snails too!
Home schooling - sometimes it works and some days it doesn't! After a pretty unsuccessful morning trying to persuade my son to do some work he asked if he could sow some seeds instead. We went out to the garden and I let my son and daughter raid my seed collection and choose which seeds they wanted to sow.
My son chose spinach - not necessarily because he wants to eat it himself but when we go to Erleigh Road Community Garden he loves finding the shield bugs which sit on the spinach leaves and is hoping to attract some to our garden! We also had a couple of the seed kits that M&S have been giving out for free so he made those up too.
My daughter chose to sow cucumber seeds as they are one of her favourite vegetables. She also chose cress as it grows quickly and she likes it on sandwiches, plus some dwarf, multi stemmed sunflowers to brighten up our garden.
Sowing the seeds gave us the opportunity to talk about what plants need to grow, we read the seed packets to find the information we needed to sow the seeds, estimated the right depth for the seeds based on the info on the pack, filled the pots and planted the seeds, wrote labels for the plants and then we talked about watering and where to put the seeds to grow so they had the right conditions.
We've enjoyed having the time to see spring unfold in all her glory this year both in our garden and while out on walks. If more formal homeschooling doesn't always go to plan luckily the natural world and activities such as gardening are rich with opportunities to learn too!
7th May
We'll be planting these Pak Choi out soon. They are a quick growing crop - baby leaves which can be used in salads are ready in about 5 weeks and plump, mature heads which can be added to stir fry are ready in 8-12 weeks.
These were started off indoors but you can sow seeds directly outdoors from May onwards. Water well as they grow to prevent 'bolting' (this is when a plant flowers prematurely and goes to seed, often resulting in the plant developing a bitter taste).
Speedy veg is ideal for small spaces as once it is ready and harvested you then have room to sow more veg! Other quick growing crops include pea shoots, radishes, rocket, carrots and salad mixes.
5th May
We sowed some rocket seeds in a pot outdoors which have now germinated and formed their true leaves. They are a bit crowded so I need to take out a few seedlings (a process called 'thinning out') to give the remaining seedlings enough room to grow.
Some tips for thinning out seedlings in containers or rows:
Check seed spacings on the back of your seed packets.
Aim to remove any weaker seedlings.
Gently pull the seedlings out with their roots. These can be discarded, used in salads or even planted elsewhere.
Lightly fork around the existing seedlings and water gently to settle the soil.
It's a good idea not to thin too enthusiastically at first as you may lose some to slugs and snails as well! You can always remove more later.
4th May
Our sunflowers are enjoying some time outdoors during the day to acclimatise them to bright sunshine, colder conditions and the wind. So far they have been protected from these elements on our kitchen windowsill!
We'll leave them outside in the day in a sheltered place and bring them in at night until we're ready to plant them out in mid May.
We've also potted them into bigger pots as roots has started to show at the bottom of the existing pots.
We measured them today too. My son's sunflower is currently in the lead at 34cm tall and my daughter's is 32cm!
There are lots of lovely activities you can tie in with growing sunflowers which I use when I'm working in school gardens and are great to try at home too while schools closed. For example writing instructions about how to plant and care for sunflowers, keeping a diary of how they grow, naming the parts of the seed and plant, charting the progress on a graph and making a sunflower height chart.
Good luck with yours and I'll post another update when we plant them out.
2nd May
Tomatoes are one of my favourite things to grow as they taste much better than shop bought ones!
I've chosen a variety called 'Tigerella' which has yellow and red striped fruit. You can buy lots of varieties that are great for containers, pots or hanging baskets such as Tom Thumb and Minibel.
I've started this plant off on my windowsill and will gradually harden it off by leaving it outside in the day and bringing it in at night. It will then be ready for planting out in mid-May and we can look forward to harvesting the fruit in the summer
1st May
Our small garden has a large ash tree at the back of it which is bursting into leaf now. It's a beautiful tree with a treehouse for the kids to play in but it does however mean that in the summer when the tree is in full leaf we won't get sun in our garden all day.
Lots of fruit and vegetables need full sun to grow well so if you're growing in a small garden too or using balconies or windowsills to grow then you may also have areas with less sun. Luckily there are a variety of plants that will still thrive with less sun.
The blackcurrant (pictured growing at Erleigh Road Community Garden last summer) is an example of a plant that can tolerate some shade as the plant originates from woodland edges. Other fruits that work well are redcurrants, gooseberries and raspberries. There are compact varieties available which work well in containers.
Vegetables that grow well with less sun include:
Lettuce
Beetroot
Kohlrabi
Radish
Chard
Brassicas such as kale and broccoli
Dwarf french beans
Herbs that tolerate less sun include:
Chives
Parsley
Mint
Sorrel
Lemon balm
29th April
The weather has taken a bit of a downturn (for us not the plants!) so we decided to get colourful today and paint a pot and sow viola seeds inside it. We chose violas as they have delicate flowers which are really pretty and they are also edible - you can use the flowers in salads, as a garnish or to decorate cakes.
Other edible flowers you can grow in bigger pots include nasturtiums, marigolds, cornflowers, dwarf sunflowers, sweet violet and borage (in the last photo are a selection of the ones we grew Erleigh Road Community Garden last year). You can also eat the flowers of many herbs as well as the flowers of vegetable plants such as squash and courgettes.
Here's what we did:
We used a plain terracotta pot and painted it using acrylic paints.
Once the paint had dried we filled the pot with compost and scattered a few viola seeds over the surface
We then covered the seeds with 3mm of compost and watered.
We've placed these on an outdoor windowsill where we can watch them grow. Check soil regularly and water if dry.
Seedlings should emerge in 10-14 days. Our pot is fairly small so we'll leave one seedling in this pot and remove the additional seedlings and plant in pots. If you don't have enough room for all the violas when they are fully grown they make a nice gift for friends and neighbours.
Flowers will appears in summer. Harvest some to use for salads etc by snipping off the flower heads with scissors.
27th April
The potato I planted in a container has sprouted green, leafy shoots which are about 10cm tall. I now need to 'earth up' the plant by covering the leaves completely with soil or compost.
The reasons for doing this are
To reduce frost damage to the leaves as the soil forms a protective layer.
To encourage larger crops. Potatoes grow near the surface of the soil so by earthing them up you give them extra room to create more tubers.
To protect the potatoes from sunlight. If tubers are exposed to sunlight they turn green and become inedible.
If growing in a container repeat earthing up every time new leaves grow to 10cm until you reach the top of the container. If growing directly in the soil earth up once or twice more at 2-3 week intervals.
26th April
The nasturtiums I sowed in March have grown well and as I started them off indoors I need to get them used to being outside before planting them out properly - this process is called 'hardening off'. It's important as it allows plants to adapt from being in protective, warm environments to the more changeable and cooler outdoor temperatures. If you put your plants out too suddenly they can be damaged by the change in conditions.
During the process of hardening off the plant's leaf structure will thicken and leaf waxiness will increase enabling them to eventually withstand outdoor conditions.
To harden the plants off you can use a cold frame but if you don't have one of these place the plants outside during the day and bring them in at night for about a week. Ensure they are in a sheltered position with not too much sun as this can cause sun scorch. After about a week the plants will be able to go out in their final position. Yay!
If temperatures look like they will drop again then you can cover plants with horticultural fleece or use a homemade cloche made out of an old plastic drinks bottle (I'll show how to make these in another post).
Plants that can that can be hardened off now include peas, chard and beetroot.
Tender plants should be kept indoors until mid-May when the chance of frost has passed. These plants include tomatoes, french and rubber beans, sweetcorn, pumpkins, squashes and cucumbers.
24th April
One of the best things for my kids about having this time at home is the fact they can have a go at lots of practical and creative things. They've been painting, drawing, baking (I have eaten so much cake!) and making things from junk they've found in the recycling bin. Over the bank holiday weekend my daughter and husband also made this vertical pallet garden which was another opportunity for painting as well as hammering and drilling!
Growing vertically gives you valuable extra space to grow if you have a small garden. We have a narrow garden behind our terraced house and this planter gives us the chance to grow some more herbs. Edible flowers such as nasturtiums, violas and marigolds also work well if you want more colour and you could also try salad leaves and rocket.
Here's how
Get a pallet and use sandpaper to smooth down the surface of the pallet and remove any splinters.
Use a saw to remove some of the slats on the front part of your planter. Use the wood you have removed to create planting troughs for each section of the planter.
You can leave the wood as it is or paint it. We painted sections using blackboard paint so we could write the names of the herbs on there.
Leave to dry.
Drill a couple of holes in the base of each planting trough for drainage.
We secured the planter to our fence and lined the troughs with multi purpose compost. We then removed the plants from their pots, placed them in position and filled around them with more compost. We'll keep them well watered and harvest the herbs and strawberries as they grow.
22nd April
Many vegetables need to be started off indoors and then moved out to the garden in May when the chance of frost damaging them has passed. However some vegetable seeds can be sown directly outdoors in April which is good news if you're running out of windowsill space (which I am!)
Veg seeds to plant out now include radish, spring onion, lettuce, rocket, peas, carrots, beetroot, chard and turnip. The good news is that many of those work really well in pots, containers or window boxes.
For seeds planted outdoors now use larger plant pots if you have them and fill with multi purpose compost. Follow seed spacing for different vegetables as specified on the back of the seed packet and cover with more compost. Water well and label. Check soil regularly and water when necessary.
The kids have helped me decide what to grow in the garden and we've decided on beetroot, carrot, radish, spring onion and lettuce. We've sown the seeds in pots and I'll post updates about how to look after your seedlings as they get bigger.
21st April
The Fenugreek seeds we sowed from one of the pots on our spice rack have grown well and we used them today as micro greens in a salad.
If you don't have much room to grow then quick veg like this is perfect as you can use the space again for something else and also it's really satisfying to eat something you've grown yourself!
The coriander seeds I planted a few weeks ago have germinated and they are ready to be potted into individual pots - a process called 'pricking out'.
This needs to be done so that seedlings have more room to grow and develop a good root system without being overcrowded.
Seedlings are ready to be pricked out once they show their first 'true' leaves. These are the leaves that develop after the first leaves (also know as the seed leaves). In the photo you can see the oval shaped leaves are the seed leaves and the the other leaf (which is the shape of a small coriander leaf) is a true leaf.
Here's how.
Fill individuals pots or module trays with multi purpose compost.
Water seedlings well before hand.
Carefully use a dibber or a pencil to poke under the seedling.
Hold the seedling gently by the leaves and ease the seedling out from the compost as gently as possible being careful not to damage the roots.
Make a hole in the centre of your pot using your pencil or dibber and place the seedling in.
Firm the compost gently around the seedling and water gently.
These will go back on my windowsill in a sunny space to grow on until they are ready to harvest.
19th April
You can buy compact, climbing or dwarf varieties of most vegetables which are perfect if space is an issue or you are growing in containers.
Today I'm sowing seeds for vegetables which both have space themed names! I'm going to grow a compact variety of squash called 'Flying Saucer' (also known as Patty Pan squash and they have these names because of their shape) and a climbing courgette variety 'Shooting Star'.
They both need to be started off indoors for now and planted out in May when the risk of frost has passed.
Here's how.
Fill a pots with multi purpose compost.
Plant seed 1.5cm deep.
The seeds of both these plants are shaped like flat ovals. Sow them on their edge as if laid flat water can sit on the top of the seed and cause it to rot before germinating.
Label and water gently.
Keep well watered. I'll post an upgrade at the beginning of May about how to plant these. Good luck!
17th April
You can make your own biodegradable pots to plant seeds in which can then be transferred outside into pots or straight into the ground when the seedlings are big enough. The newspaper will biodegrade in the soil which means it's a great way to transfer seedlings without damaging their roots.
You will need newspaper, scissors, a small jar (such as a pesto jar), compost.
Here's how.
Cut a piece of newspaper in half and fold the paper in half lengthwise to make a narrow strip.
Place a jar at one end of the newspaper strip so half of the paper is over the bottom of the jar. Wrap the paper around the jar.
To make the bottom of your pot push the ends of the paper into the open end of the jar.
Pull the jar out of the newspaper.
Push the bottom of the jar into the newspaper pot squashing it down to flatten.
Place pots into a fruit punnet and fill with soil. They're now all ready for you to sow seeds inside
16th April
If you don't have a garden or fancy growing some quick veg then you can grow pea shoots indoors on your windowsill.
Here's how to do it.
Choose a container about 10cm deep and ensure it has drainage holes. I've used an old veg punnet.
Fill your container with compost nearly to the top.
Sow seeds on top of compost. You can sow them close together (see photo). Try and leave a gap the size of a pea between each seed.
Cover the seeds with about 1cm of compost, label and water gently.
Place on windowsill. Peas can tolerate shade so don't worry if your windowsill doesn't get sun all day.
Keep compost moist and in 2-3 weeks time your pea shoots will be ready to harvest!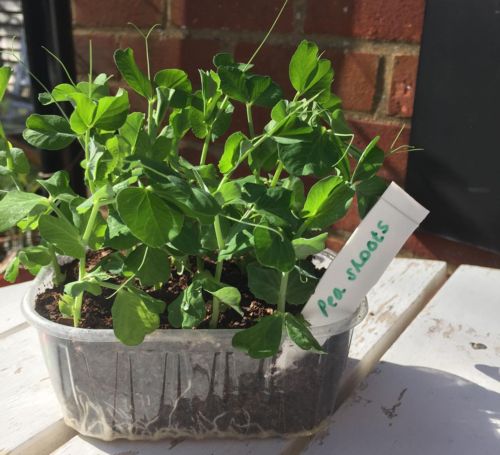 Once shoots are 5-10cm long snip above the lowest set of leaves with scissors and then the plant will regrow. Pea shoots provide Vitamin K, C and A as well as folic acid.
Use in salads, on sandwiches and on top of pasta. I'm having mine for lunch today on a sandwich.
14th April
This is is also known as Swiss Chard and is part of the spinach family so packed full of vitamins and antioxidants. Tender baby leaves can be added to salads and larger leaves can be cooked like spinach.
I've chosen this particular variety as the stalks of the plant are striking in colours of red, orange or yellow. Chard can be grown in a container outside or for baby leaves you can grow them on your windowsill.
Here's how to grow them in a container outside.
You will need a container which is at least 25cm deep.
Place container in a sunny, sheltered spot and fill with compost until there is 2.5cm of room left at the top.
I've sown three seeds in my container. Sow 1cm deep. Water gently and label.
Check compost and water if dry.
After 2-3 weeks seedlings will appear. After about 8 weeks the leaves are ready to be harvest for salad or wait until they are larger for cooking. Pick a few leaves at a time from the outside of each plant. This will encourage new leaves to regrow.
9th April
Even the smallest garden or window box can support a range of insects and other invertebrates such as worms, slugs, snails and spiders. Insect numbers have dropped dramatically in recent years so it's really important that we do all we can to encourage them to our gardens.
Insects are an important source of food for other animals such as birds and bats, they pollinate most flowering plants and crops, act as predators to other insects (e.g. ladybirds prey on aphids), and worms and other soil living creatures help with decomposition and give us nutrient rich soil.
There are lots of ways you can make your garden more welcoming to insects and other invertebrates.
Grow a diverse range of flowering plants to attract different pollinators.
Collect some logs and make a small log pile in your garden. Woodlice, centipedes, millipedes and ground beetles will appreciate this.
Create a small pond. Even one made from a washing up bowl and placed in the ground will make a difference.
Don't use chemicals in your garden such as insecticides and pesticides.
Make a compost heap for garden waste and kitchen vegetable scraps and this will be a haven for insects and other invertebrates.
Create a wildflower patch or leave one area of grass long.
It's a good idea to carry out surveys throughout the year to see what you find in your garden. The more biodiversity in your garden the better for the health of your garden and the planet.
7th April
Rocket is a super speedy to grow and shoots will blast out of the compost a few days after sowing. I planted the seeds in the photo last Thursday.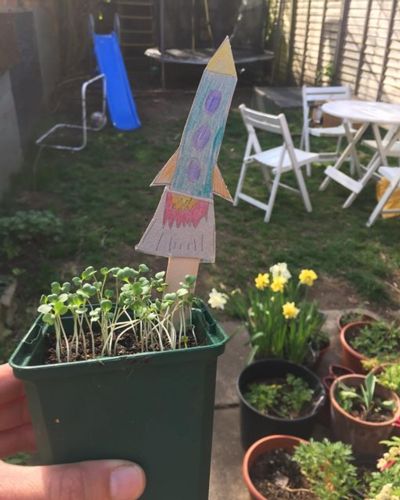 Rocket can be grown on a windowsill for small baby leaves or sown outside in containers. It doesn't mind some shade so if your garden doesn't get sun all day this is a good one to grow.
Rocket leaves have a lovely peppery flavour and are rich in Vitamin C and potassium. They are great added to salads or on top of pizzas and pasta.
Here's how to do it.
Fill pot with compost almost to top.
Sprinkle seeds over the top and cover with about 5mm of compost.
Water gently.
Label. My son drew a rocket on some cardboard and we stick this onto a lollypop stick so we won't forget what we've sown here!
Place on windowsill or in garden for outdoor growing.
Leaves will be ready to eat in 3-4 weeks and if you harvest leaves by snipping them off with scissors then new leaves should then regrow.
Good luck!
6th April
This flower's real name is Limnanthes douglasii but the common (and more easy to remember!) name is 'poached egg plant' because the middle of the flower looks like the yolk of an egg with the white of the egg around the outside.
These flowers are great at attracting pollinators to your garden and hoverflies especially love them. It's important to attract pollinators to your garden if you're growing fruit and vegetables because many of these plants require pollination for fruits to form.
I've started these off in egg shells which make great seedling pots and can sit on your windowsill in the egg carton tray. Lots of different seedlings can also be started off this way too.
Here's how.
Save your egg shells and wash them out with warm, soapy water.
Wait for shells to dry and then fill with seed sowing compost.
Carefully pierce the bottom of the shell for drainage.
Sow seeds 3mm deep.
Place on sunny windowsill and keep soil moist.
Plant out in garden in May.
3rd April
Last Tuesday I launched a sunflower growing competition to see who could grow the tallest sunflower. If you planted yours last week then they should like something like ours in the photo here.
I have posted seeds out to people who asked for them and still have a few left so if you need seeds please let me know as it's not too late to plant them.
The winner will get a bundle of prizes to get their own tiny veg patch started at home plus prizes for runners up too. To enter the competition please send me a message to let me know.
Check out my original post for info on how to sow seeds a