May Day's are Coming!
Click on the link below to enjoy a vegan meal any time of the day.
https://uk.veganuary.com/recipe-categories/quick-easy-vegan-recipes/
Alternatively try any of the recipes below to enjoy any time.
Combine Cauliflower and Cheese
https://www.bbcgoodfood.com/recipes/cheesy-green-veg-gratin
This looks a good idea as a Starter.
https://www.bbcgoodfood.com/recipes/spring-sharing-board
Rhubarb and custard cake
This is a lovely moist cake that makes the most of rhubarb when it is in season in spring.
200g rhubarb (roughly 3 sticks)
50g sugar (demerara if you have it)
3 eggs
150g sunflower margarine
150g caster sugar
100g self-raising flour
100g ground almonds
60g custard powder
½ teaspoon almond essence (optional)
Icing sugar to finish
Preheat the oven to 180C/gas mark 4
Line the base of a 20cm loose bottom round cake tin with baking parchment. Grease the sides.
Place the rhubarb in a pan with the Demerara sugar. Cover and cook gently for 5-10 minutes, stirring every minute or so, until the rhubarb is just going soft – be careful - it is easy to overcook the fruit at this stage!
Cream together the margarine and sugar until pale and fluffy,
Continue to beat, adding the eggs one at a time along with a spoonful of flour.
Fold in the flour, ground almonds and custard powder
Loosely fold in the cooked rhubarb then spoon into the prepared tin.
Bake for approx. 45-50 minutes until slightly browned and firm to touch.
Leave in tin for 5-10mins, then turn out & leave to cool
Once cool, dust with icing sugar then cut into slices to serve.
This is lovely just warm out of the oven served with custard. Stored in an airtight tin it will keep for a few days (if it lasts that long – in my house it never does!)
Why not try a Swede Mash Recipe?
https://www.bbc.co.uk/food/recipes/swedemash_78187
Then there is this Red Cabbage recipe.
https://www.bbcgoodfood.com/recipes/4964/christmas-spiced-red-cabbage
Why not try parsnips with maple syrup?
https://www.nigella.com/recipes/maple-roast-parsnips
Roasted carrots
https://www.jamieoliver.com/recipes/vegetables-recipes/the-ultimate-carrots/
Are you still roasting potatoes?
https://www.olivemagazine.com/guides/best-ever/best-ever-roast-potato-recipes-and-more-for-christmas/
Leeks are around for Easter.
https://www.thespruceeats.com/buttered-leeks-recipe-spring-leeks-4126572
Here are some options for vegetarian & vegan guests at the Christmas dinner.
https://www.olivemagazine.com/guides/best-ever/best-ever-vegetarian-christmas/
For Recipes follow the link below
Or try any from the selection below.

Coleslaw
I have made this coleslaw healthier than a shop-bought one by making the dressing with yoghurt and mayonnaise (most recipes just use mayonnaise). Find a crunchy cabbage – green, white or red!
1/2 cabbage, shredded
2 carrots, peeled and grated or very finely chopped into 'sticks'
1 apple, peeled and grated or finely chopped
1 stalks celery, finely chopped (optional)
1 red onion, finely sliced + rinsed (optional)
Small handful of walnuts, broken into pieces (optional)
2 tablespoon mayonnaise
2 tablespoon plain yoghurt
Seasoning to taste
Place the vegetables in a large serving bowl.
Make a dressing by mixing the yoghurt and mayonnaise together.
Toss the slaw with the dressing and season to taste with salt and black pepper.
Frittata for Two
3 eggs
3 small new potatoes - use cooked leftovers if you have them
3 spring onions
100 - 150g spinach (a large handful)
40g to taste cheddar or other cheese
1 dessert spoon olive oil (enough to thinly coat the bottom of your frying pan)
Some fresh herbs - parsley, thyme, fennel or any you particularly like.
First cook your potatoes. Scrub well leaving on the skins. Place in a pan and just cover with water, bring to the boil and then turn down to a gentle simmer for 15 minutes or until the potatoes are just cooked through. Test them using a sharp knife or fork. Drain off the water and leave to cool slightly.
Meanwhile prepare your other ingredients:
Wash and chop the spinach if necessary. Cook in a dry pan for a few minutes until it is wilted down. Leave to drain and cool in a colander.
Chop the spring onions into small pieces
Chop the herbs finely.
Grate the cheese
Break the eggs into a bowl and whisk with a fork. Season with salt and pepper.
Switch on your grill
Slice your cooled potatoes into 2 - 3cm slices, squeeze out excess water from spinach and chop.
Heat the oil in a frying pan and fry your potato slices for 2 - 3 minutes until warmed through
Add the eggs, vegetables, herbs and cheese. Cook on a low heat until the base is just set - do not overcook!
Place under the hot grill for 1 minute or until the top is set - again do not overcook!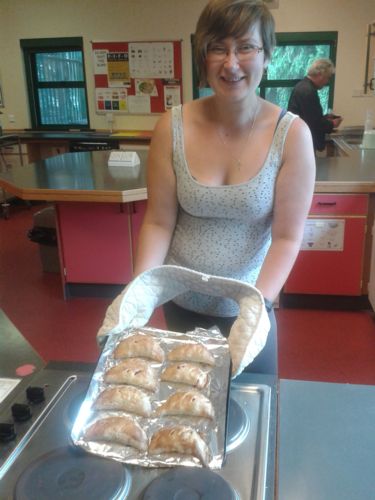 Leek and Pea Risotto
This risotto uses a handful of ingredients and a quick and simple method – it makes a quick midweek dinner. Serve with a salad with a lemony dressing as a contrast to its richness. The recipe is from the BBC GoodFood website (www.bbcgoodfood.com) which is a great place to look for ideas.
Around 1 litre chicken or vegetable stock
2 tablespoons olive oil
2 medium sized leeks, washed and chopped
A big handful of frozen peas (around 100gms)
A good handful of chard (or other leafy green veg), chopped
Small bunch of parsley, chopped
150g risotto rice, such as Arborio
30gm parmesan cheese or 40gms strong cheddar
¼ lemon
First wash and chop the leeks, chard and parsley.
Boil a kettle, then make the stock in a pan. Keep it hot over a low heat.
Heat the oil in another pan.
Add the leeks and chard and cook over a medium heat for 5 minutes until soft.
Add the rice and stir until all the grains are coated in the oil.
Add a ladleful of hot stock and stir until most of the stock has been absorbed before adding another.
Continue like this for about 20-25 minutes, stirring constantly, until the rice is creamy and tender but still has a little bite. Stir in the peas a few minutes before the end.
Add the grated parmesan (or other cheese), the squeezed lemon and the chopped parsley. Mix in and serve.
Potato wedges
These are a good alternative to chips. If you like a little spice use the paprika – it's not too hot and adds a nice flavour.
2 medium/large potatoes
1 tablespoon olive or rapeseed oil
Paprika –approx ½ teaspoon (optional) and/or 1 teaspoon zatar seasoning
¼ teaspoon salt, or to taste
Pre heat the oven to 200C/180fan/gas 6.
Scrub the potatoes clean. Cut into wedges approx.. 2.5cm/1" thick. Dry with a clean tea towel or kitchen paper.
Put the wedges, salt and spices in a large bowl or plastic bag.
Add the oil & mix so that all the wedges are coated. Place wedges onto a large baking tray.
Bake for 30-40 minutes until browned and soft inside.
Pumpkin Cheesecakes
Makes 2 single servings. (Day in advance to allow time for adequate chilling)
Biscuit Base
25g Unsalted butter
75g Plain digestive biscuits (crushed into crumbs)
Cheesecake Filling
300g Roasted & puréed pumpkin
½ Lime (zest only, finely grated)
1 Small Egg (whisked)
150g Full fat cream cheese
40ml Sour Cream
50g Caster Sugar
¼ tsp Cornflour
¼ tsp Ground Cinnamon
¼ tsp Ground Nutmeg
Preheat the oven to 180C/350F

In a medium sized saucepan over a low heat melt the unsalted butter.

Once the butter has melted stir in the crushed digestive biscuits and the lime zest until it's all mixed nicely together.

Grease the base and sides of two chefs rings with unsalted butter and divide the biscuit base mixture into each ring.

Spread the base mixture until you have a level base then let this cool in the refrigerator for at least 10 minutes.

In a mixing bowl add all the cheesecake filling ingredients and mix well to form a nice smooth mixture

Pour the filling over the cool biscuit base and cook in the oven for around 25 minutes or until the surface is set and the middle still quite soft.

Remove the cheesecakes from the oven and let them cool at room temperature.

Gently slide the cheesecakes out of the chef's rings before covering and chilling them overnight.
Why not decorate the finished cake with a small pinch of Ground Nutmeg or Cinnamon, perhaps top it off with some lightly whipped cream.
Raisin & Walnut Biscuits
You don't have to add the topping, the biscuits are delicious without it. The toppings are good for an extra treat and a useful skill for making biscuits or cakes pretty without a full coating of icing. You can use other spices or different dried fruit and nuts.
50g raisins
50g butter or margarine
35g sugar (brown gives nice flavour but white is fine)
1 teaspoon golden syrup or runny honey
½ teaspoon ground cinnamon
Pinch salt
50g porridge oats
50g self-raising flour
10g walnuts nuts (5 – 6 nuts), pieces are fine.
Turn the oven on to 170c/gas mark 3/150c fan oven. Grease a flat baking tray or cover with baking paper.
Chop the walnuts into pieces and keep them separately to go on the top of the biscuits.
Put butter, sugar and syrup/honey into a small saucepan.
Weigh flour, cinnamon, salt, oats and raisins into a mixing bowl.
Put the butter mix onto a low heat and when it has melted, tip into the bowl and mix well with a wooden spoon, then bring together into a dough with your hands.
Sprinkle some flour on your work surface. Take dessert spoons of the mixture and roll into a ball. Then press down with your hand on the floured surface to make flattened biscuits (about 8cm across). You should make 7 – 8 biscuits.
Scatter some chopped walnuts on each biscuit and press down gently
Transfer to the baking tray using a palette knife or fish-slice.
Bake for 15 minutes, then leave to cool on the baking tray for 10 minutes before transferring to a wire rack. They can now put on any topping you are using.
Toppings
Orange Icing
Sieve 2 tablespoons of icing sugar into a small bowl and mix with ½ teaspoon orange juice. Add more orange juice or water if needed to make a pouring consistency. Use a teaspoon to drizzle over the top of your biscuits.
Melted chocolate
Put a small amount of water in a saucepan and find a bowl that rests across the top of the saucepan. Put the water on to gently simmer and add 30g chocolate, broken into pieces into the bowl. When it is melted use a fork to trickle over the top of your biscuits.
Roast Vegetable Lasagne
This lasagne uses roasted vegetables but if you can make a cheese sauce you can follow different meat or vegetarian lasagne recipes. For the course we are using foil containers so that it is easier for you to take the lasagne home. If you make it at home you can use a baking tray or ceramic dish and maybe use more sheets of lasagne depending on the size of your dish.
1 small aubergine
1 medium courgette
300g tomatoes
1 onion
1 clove of garlic
1 tablespoon capers (optional)
35g plain flour
40g butter
500ml milk
50 g grated cheese
Pre-heat the oven to 240c, 220 c fan, gas mark 9
Chop the aubergine, courgettes and onions into 2 - 3 cm pieces and place in a baking tray with the tomatoes
Crush the garlic and sprinkle over the vegetables with the olive oil and season with salt, pepper and herbs if you like.
Put in the hot oven for about 30 minutes until the vegetables starting to go brown at edges.
Make the sauce by placing the flour, butter and milk into a saucepan over a medium heat and whisk until it boils. Continue boiling and whisking for 2 minutes while it thickens, take off heat and add the cheese (leaving a bit to sprinkle on top)
When the vegetables are cooked stir in a dessert spoon of capers if using and turn the oven down to 180c, 170c fan, gas mark 4
Make layers of vegetables, then lasagne sheets, then cheese sauce ending with cheese sauce, making sure all the lasagne is covered. The exact number of layers will depend on the size and shape of your dish. Sprinkle the remaining cheese on top and cook for 25 - 30 minutes until the lasagne is cooked.
Salad Dressing
You can use the dressing given in this recipe to put on lettuce, grated carrots or other salad veg.
2 tablespoons olive oil
½ - 1 clove of garlic (depending on taste and size of clove)
2 teaspoons vinegar (red or white wine vinegar, or cider vinegar not malt)
½ teaspoon Dijon mustard (optional)
Make the dressing in the bowl you will use for the salad. Peel and crush the garlic into the bottom of the bowl.
Add the oil, vinegar and mustard - taste and adjust as you like. Add salt and pepper as required.
Add your salad vegetables and mix well.
Soda Bread
This is a very quick and easy bread that tastes great when still warm from the oven. It doesn't keep for long but if you do have some left over the next day it is good toasted. You can use different quantities of white & wholemeal flour, depending on what you like and how healthy you'd like to be!
200g plain white flour
100g wholemeal flour
1 teaspoon bicarbonate of soda
½ teaspoon salt
200ml plain yoghurt (runny, not 'set')
50ml water
Heat the oven to 200C/fan 180C/gas 6.
Mix the flours, bicarbonate of soda and salt in a bowl.
Add the yoghurt and water.
Stir to form a dough. If it is too dry add 1 or 2 more teaspoons of water.
Bring together to form a ball and knead for about 1 minute.
Put onto a floured baking sheet, lightly dust the dough with flour and cut a deep cross in the top.
Place in the hot oven.
Check after 35 minutes. If it sounds hollow when you tap on the bottom it is done. Otherwise bake for a further 5 minutes.
Let it cool slightly before eating
Why not try additional extras: Approx. 25g cheddar cheese, some chopped herbs or a tablespoon of seeds such as pumpkin or sunflower can be added into the flour before you add the yoghurt. If you don't have yoghurt you can use 200ml milk with half teaspoon cider vinegar and leave out the water.
Veggie bean burgers
Eat these in a bread bun with lettuce, tomato and onion and some relish.
1 tin of cooked beans such as kidney, cannellini or chickpeas
1 carrot
½ red onion
Wedge of celeriac (optional)
50-75 grams of feta or cheddar cheese
1 tablespoon fresh coriander, thyme or parsley
2 tablespoons olive or rapeseed oil
2 tablespoons flour for coating
Salt and pepper
Drain and rinse the beans and put in a bowl. Mash well with a fork or potato masher.
Grate the carrot, celeriac, apple and red onion and put into the bowl.
Crumble the feta cheese or grate the cheddar. Chop the herbs finely. Add to the bowl.
Mix everything together and season to taste.
Sprinkle the flour onto a plate. Divide the mixture into 4-5, then wet your hands and shape into burgers. Do not make them too fat. Coat in flour.
Heat 2 tablespoons of oil in a frying pan on a medium heat. When the oil is hot add the burgers and fry for around 4-5 minutes until browning. Turn over and fry on the other side until just brown.
You can also add other ingredients such as cooked sweet potato or grated apple.
Veggie Shepherds Pie
1 tablespoon olive oil
1 onion
1 carrot
1 stick of celery
1 clove of garlic
1 tablespoon chopped fresh thyme (or teaspoon of dried)
400g tins of lentils
200g tin of tomatoes (or half a 400g tin)
100ml water
750g potatoes (or sweet potatoes)
75g cheese, grated
A large knob of butter
Heat oven to 190C/170C fan/gas 5.
Chop the onion, carrot, celery and garlic
Heat the oil in a pan, then add the chopped vegetables and cook gently with the lid on, stirring occasionally for about 10 minutes.
Add the tomatoes, thyme, water and drained lentils. Bring to the boil and simmer for about 30 minutes.
While it is cooking peel the potatoes, cut into pieces and boil until tender (10 – 15 minutes), drain well, then mash with the butter and most of the cheese. Season with salt and pepper to taste.
Pile the lentil mixture into a pie dish, spoon the mash on top, then sprinkle with the rest of the cheese (If you don't want to cook it straightaway the pie can now be covered and chilled for 2 days, or frozen for up to a month.)
Cook for 30 mins if cooking straight away, or for 40 mins from chilled, until golden and hot all the way through. Serve with other veg e.g. broccoli