New Christ Church Community Allotment
Milman Road, RG2 0AY.
Children Only Session: Starting again in Spring 2020.
Project tutor - Naomi German
Summary
New Christ Church Primary School is blessed with a large playing field and in the top corner of this is the school garden with seven raised beds plus a brick herb bed too. There are also containers with apple, pear and plum trees along the edge of the field.
The garden was set up a number of years ago and in 2016 Food4families became involved again and started running weekly sessions for each class at a time in the spring and summer terms. The children have planted pizza gardens containing all the ingredients that can be used when making pizza - such as tomatoes, courgettes and basil, learnt about how to reuse and recycle in the garden by experimenting with different materials to make plants pots, propagated herbs to sell at the school summer fair, made bird feeders and much more.
We are also working towards the RHS School Gardening Awards. The children completed the Level 2 award last summer and are now working towards their Level 3 award. Exciting developments coming up are the planting of wild flowers to attract pollinators and we have also applied for some trees from the Woodland Trust to plant out on the school field.
Photo Gallery
A series of raised beds in New Christ Church School's community allotment.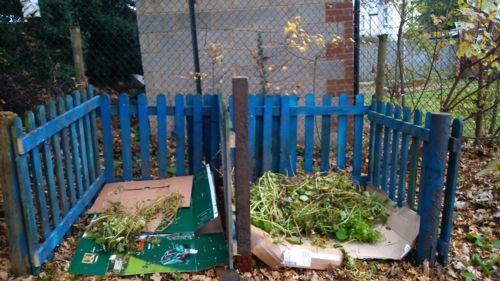 The start of Compost Bins to produce mulch which is later spread on the raised beds around the growing vegetables
Volunteers from Deloitte helped construct the pergola & key-hole garden.
A pupil from New Christ Church School waters the first crop from a raised bed. In the background is the beginning of the Pergola constructed with the help from volunteers from Deloitte.
If you'd like some help setting up a school gardenl or would like a garden tutor to come along to run some fruit and veg growing sessions, please contact us.