Food4Families Training Base
Volunteer sessions will be running at the base at the following times:
Wednesdays 10am to 12.30pm
Fridays 10am to 12.30pm
Currently we are restricting the number of people who are able to attend a session so that we can maintain social distancing and keep the space safe.
For more information and to find out how to book a place please email sharon@risc.org.uk
Food4families training base is in the garden at South Reading New Directions in Whitley. It consists of: a poly-tunnel where we grow plug plants that are used in the F4F gardens, veg patches and taster sessions.
4 high level raised beds to allow for easy access for people with mobility issues
4 low level raised beds and other ground level growing space
a nature pond – home to our friendly slug eating frogs
small selections of fruit bushes/trees
The garden is maintained by students from John Madjeski Academy and a small team of volunteers lead by F4F tutors.
Photo Gallery
The land before the Food4Families training base was estabilshed.
Clearing the land in prepartion for the polytunnel where seedlings can be grown over winter.
Inside the polytunnel where seedlings ar growing ready to be planted out in various locations around Reading.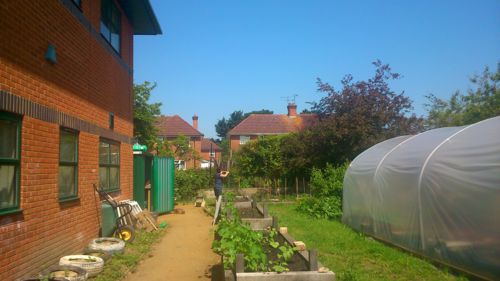 The Food4Families training base on a summer day!
Using the Harvest-ometer we have establshed this final yield.
Alternatively click on /userfiles/files/Harvest-ometer.pdf