What stories have F4F been telling about community food growing?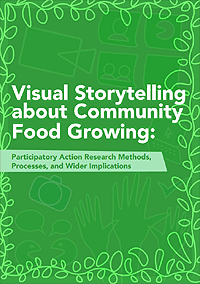 In collaboration with our project partners at Cobra Collective, Food4Families is excited to share a new report and video outlining the benefits and achievements of community food growing: Visual Storytelling about Community Food Growing (PDF format).
The report includes a huge range of insights from food-growing initaitives involved in the project and highlights the benefits of growing together, including:
Being part of a team with a shared purpose
Meeting new people and making new friends at the same time
Developing sustainable food-growing skills and knowledge
Building bonds with the community and sharing food where needed
Taking part in healthy outdoor activities and reconnecting with nature
Background to the project
During the past two years, members of Food4Families' community gardens in Reading have been working with digital storytelling experts to create short videos about our food-growing experiences.
As part of the project, Food4Families volunteers, garden tutors and coordinators shared their unique perspectives on the food growing and other activities that take place in our gardens. A special focus on Lavender Place Community Gardens illustrated how this place in the centre of Reading had united our community during the pandemic.
Watch our short video to learn more about Lavender Place and the community garden folks who made it possible: Lavender Place Community Gardens: The Evolution of an Urban Oasis.
All the stories from the project can be found on the Cobra Collective Vimeo showcase.
Want to know more?
The project has been conducted over the past two years in collaboration with The Open University, Cobra Collective and Sustain: The alliance for better food and farming, and kindly funded by the Arts and Humanities Research Council as part of the Pandemic and Beyond programme. More details about the project can be found on the Cobra Collective site: Grassroots Visual Storytelling about Community Food-Growing.