Cookery Blog
Hello, my name is Michele and I am one of the garden tutors for Food4Families. As well as growing fruit and vegetables at our community gardens we also run cookery courses to show you how to use those wonderful fruit and veggies that you have grown. Along with some useful store cupboard ingredients you can cook some simple but delicious meals!
Recipes
Thoughts from a gardener / cook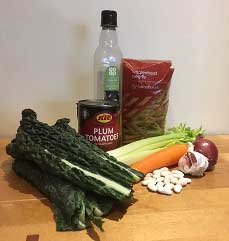 The vegetables we use will be the sorts of things you can grow in a small space at home. Another garden tutor, Naomi, will be showing you what you can grow right now on her Facebook page Tiny Veg Patch - see the link on the Food4Families Tiny Veg Patch page.
As we are unable to run the cookery courses right now I am going to share some of the recipes we use and how to cook them here along with some tips which I hope you will find useful. The recipes are vegetarian which you can have on their own or have with meat if you prefer.
I hope you find the ideas here useful. If you have made any of the recipes so far I'd love to see pictures, please send them to sharon@risc.org.uk
Before cooking always make sure you tie long hair back and wash your hands.
I've got too many beans!
French beans and runner beans are both very easy to grow and are in abundance now. If you have too many to cope with, they freeze well. Here are some tips and suggestions:
Freezing French beans
These beans are usually about 10-15 cm long, with a round shape like a pencil. They need very little preparation - just wash and slice the end off of each bean. Cut into 3 cm lengths.
Bring a large saucepan of water to the boil on a high heat so the water is boiling vigorously. Drop the beans into the water and cover with a lid.
Set a timer for 2 minutes.
When the timer goes off, remove the beans from the heat, drain them and drop into a bowl of cold water. The idea is to stop them cooking any further so get them cool as soon as possible. You may need to change the water to get them cold.
Once cold, bag up, label them, including the date and put into the top drawer of your freezer (this is often the coldest part of the freezer so the beans will freeze more quickly).
Use within 6 months.
To re-heat the beans, drop them into a pan of boiling water and cook for 2 minutes as they are already part-cooked.
Runner beans in tomato sauce
These can be 10-20 cm long, with a flatter shape and a rough surface.
These can be frozen in the same way as french beans but I find they can be a bit tough after freezing. Instead, I cook them up in a tomato sauce and then freeze them. The beans can then be re-heated and served with rice for a very easy meal.
You can use french beans in the same way.
To prepare the beans, wash and slice the end off of each bean. Take a potato peeler and peel along each edge of the bean as the edges can be quite tough. Slice the beans on the diagonal so they are about 1 cm long.
Ingredients for the tomato sauce
1 tbspn olive oil
400g tin of chopped tomatoes
1 onion, finely chopped
1 large garlic clove, finely chopped
Handful of basil and/or parsley if you have it
Salt & pepper
Method
Heat the olive oil in a large frying pan over a medium-low heat.
Add the onion and saute gently until soft, about 10 minutes.
Add the garlic and continue cooking for another minute.
Stir in the beans and the tomatoes, season with salt and pepper and simmer over a medium heat for 10-15 minutes.
Add the herbs and simmer for a further 5 minutes, until the sauce has thickened and the beans are tender.
If freezing, cool down quickly in cold water. Once cold, put into a suitable container, label and freeze.
To re-heat from frozen, take out of the freezer on the morning you want to use the beans and leave to defrost in the fridge. Alternatively, defrost in the microwave gently to avoid overcooking the beans.
Serve hot with rice, or warm or cold as a side dish.
This is a delicious and substantial salad that makes the most of vegetables that you can easily grow at home and are ready about this time of year.
I have made this with potatoes and beans from my garden. Here are the potatoes I grew in an old compost bag.
Even if you don't have a lot of space, potatoes grow well in bags and the beans will grow up canes in a large pot and look decorative too!
Ingredients
500g new potatoes
200g French beans, cut into about 3cm lengths
4 large eggs
Handful of Little Gem or other crisp lettuce leaves
Handful of black olives
About 12 large basil leaves, torn
For the dressing:
1/2 small garlic clove, crushed
3 tbspn olive oil
1 tbspn cider vinegar
1 tsp Dijon mustard
A pinch of sugar
Method
Scrub the potatoes (don't peel them) and chop into bite-sized pieces.
Put in a large saucepan, cover with cold water and bring to the boil. Simmer for 8 minutes and then add the beans to the pan for 4 minutes.
Check the potatoes and beans are tender.
Drain, tip into a bowl and leave to cool.
Boil the eggs for about 7 minutes. When cooked, crack the shells and leave to cool in cold water.
When cool, peel and cut into quarters.
To make the dressing, put all the ingredients into a screw-topped jar and shake until combined.
Pour some of the dressing over the potatoes and beans and toss gently together.
Add the lettuce leaves, basil and olives and gently mix together.
Add the eggs on top of the salad and drizzle the rest of the dressing over.
Serve with crusty bread.
Courgettes are now in full swing. Don't be put off by using courgettes in a cake! Using them makes the cake lovely and moist.
When making cakes it's a good idea to weigh the ingredients fairly accurately to make sure your cakes turn out the same each time.
Ingredients
Makes 8 muffins or 1 loaf cake
250g courgettes (2 small or 1 large)
2 eggs
125ml vegetable oil
150g caster sugar
225g self-raising flour
50g sultanas or walnuts, roughly chopped
½ teaspoon bicarbonate of soda
½ teaspoon baking powder
For the icing:
50g icing sugar
Juice of ½ lemon
Method
Preheat the oven to 180c (170 fan), gas mark 4
Wash and grate the courgettes using the coarse side of an ordinary grater. I grate them onto a clean tea towel and squeeze most of the water out of them but you don't need to do this although you will end up with a more moist cake.
Weigh the flour, bicarb and baking powder into a bowl
Put the eggs, oil and sugar into another bowl and beat until creamy.
Add the flour mixture into the egg and oil mix and beat until well combined.
Stir in the grated courgette and sultanas/walnuts if using.
Fill 8 - 10 muffin cases about 3/4 full with the mixture and bake for about 20 minutes until slightly browned and firm to the touch.
Mix the icing sugar and lemon and when the muffins are cool drizzle on the top.
This can also be made as a cake - pour the mixture into a loaf tin lined with greaseproof paper and once cooked cut in half and put lemon curd in the middle.
It can also be made with other ingredients eg blackberry and apple, carrot and sultanas, banana. Just use the same weight of veg/fruit as stated in the recipe.
These burgers are so easy to make. They are more expensive than some veggie burgers but they are filling. Mushrooms are available all year round.
Ingredients
Makes 2 burgers
1 tbspn olive oil 10p
4 large flat mushrooms, wiped clean £1.00
1 clove of garlic, finely chopped 7p
4 slices Halloumi cheese £1.15
Salt and pepper to taste
Burger buns (I used wholemeal rolls) 36p
Approx £2.68 / £1.34p per burger
Method
Pre-heat the grill
Place the mushroom stalk side up on the grill pan
Drizzle a little olive on each one
Sprinkle the garlic over each mushroom
Season with salt and pepper
Grill for 7 minutes
Add the slices of halloumi to the grill pan
Turn the cheese after 2 minutes
Add the burger buns/rolls and lightly toast for 1 minute each side
Serve the burgers with a fresh green salad and homemade coleslaw.
Summer is definitely here! I can tell as my courgette plants are starting to produce more courgettes than I can cope with! Courgette plants are really easy to grow and you can get very compact ones that will grow in a pot if you don't have a lot of space. They will quite happily produce courgettes from now until the autumn plus they have beautiful flowers which can also be eaten.
Here's another flexible recipe that makes use of courgettes.
Ingredients
Makes 8 burgers
1 can kidney beans or chickpeas or cannellini beans 55p
1 red onion, diced 10p
2 cloves of garlic, finely chopped 7p
4 fresh tomatoes, roughly chopped 50p
1 red pepper, finely diced 45p
1 courgette, grated 20p
3 slices of bread, grated into crumbs 30p
1 tsp chilli power / paprika / curry powder 5p
1 tbspn olive oil 10p
Salt and pepper to taste
Approx £2.32 / 29p per burger
Method
Pre-heat the oven to 200 degrees C
Heat the olive oil in a large saucepan, gently fry the onion for 5 minutes.
Add the garlic and continue frying for 2 minutes.
Add the red pepper for another minute, then the grated courgette.
Add the spices, mix well and cook for another minute.
Remove the pan from the heat.
Puree the beans in a blender.
Add the beans to mix, season with salt and pepper, and add the breadcrumbs in a little at a time until the mixture is holding together like a dough.
Use your hands to make 8 equal sized burgers. If the mix gets really stuck to your hands then add more breadcrumbs.Place the burgers on a baking tray lined with baking paper to prevent sticking.
Bake in the oven for 15 minutes per side.
Serve the burgers in a roll with a fresh green salad and homemade coleslaw.
Variations: You could also use grated carrot, pureed broad beans, chopped mushrooms, peas, spring onions or sweetcorn.
If you are short on growing space and would like to grow an edible plant in a pot I would recommend having a blueberry plant. They have pretty flowers, tasty fruit and then the leaves turn a brilliant red in the autumn. They don't like normal garden soil as they prefer a more acid soil but this is readily available in all garden centres.
British blueberries are starting to become available in the shops now and my plants at home are starting to produce fruit. There's nothing quite like picking blueberries straight from the plant and having them with yoghurt or on your cereal, or even better, in pancakes!
Tip: I use an old frying pan for this - the juice from the cooking blueberries can be difficult to remove!
Ingredients
Serves 4
50g porridge oats 6p
250 ml milk 12p
175g self raising flour 18p
1 tsp baking powder 5p
2 eggs 40p
150g blueberries £1.50
a little vegetable oil honey or maple syrup
Total £2.31 / 57p per portion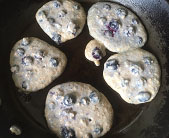 Method
Soak the oats in a little of the milk for a few minutes.
In a bowl mix together the flour and baking power.
In a jug beat together the eggs and the remaining milk.
Pour the egg and milk mixture into the flour and stir until smooth.
Stir in the oat mixture and the blueberries.
Add a teaspoon of vegetable oil in large non-stick frying pan on a medium to high heat. Before it gets too hot, wipe the oil around the pan with a piece of kitchen paper so there is just a thin layer of oil.
When the pan is hot, drop small spoonfuls of the batter mix into the pan and cook for about 3 minutes per side until risen and golden brown.
You may need to wipe the pan with a little more oil between batches to prevent the pancakes sticking.
Serve warm with more fresh blueberries on the side and a tiny drizzle of honey or maple syrup.
If you have any left over, once cooled, store in an air tight container. They re-heat well in a toaster.
This is another easy recipe that makes use of those vegetables lying in the bottom of the fridge! I sometimes add sweetcorn if I have any in the freezer. The spices and the black beans give the dish a rich flavour and you can make it as hot and spicy as you like.
The black beans are the protein part of the dish and at 75p for a carton, considerably cheaper than meat. The total cost of this chilli works out at around 80p per portion.
Ingredients
1 tablespoon olive oil 10p
1 onion 10p
1 heaped teaspoon ground cumin 10p
pinch of ground cinnamon 5p
½ teaspoon chilli powder 10p
½ teaspoon smoked paprika 10p
2 cloves of garlic, finely chopped 7p
red & yellow pepper , roughly chopped 120p
black beans in water, drained 75p
1 tablespoon tomato purée 10p
100 ml vegetable stock 11p
1 x 400 g tin of tomatoes 30p
1 tablespoon balsamic vinegar 15p
Total: £3.23 / 81p per portion
Method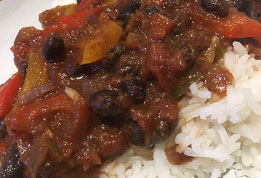 Heat the oil in a heavy based saucepan. Add the onion and fry gently for a few minutes until soft. Stir in the spices and continue cooking for a few more minutes.
Add the peppers, stir well, cover and cook for another couple of minutes.
Stir in the tomato puree until everything is coated, then add the tomatoes, stock and balsamic vinegar. Mix well.
Stir in the black beans and simmer the whole thing for about 20 minutes.
Serve with rice and a green vegetable such as broccoli.
A change from the usual things we cook here but I'd like to encourage you to make your own jam - like the recipes I've given before it's not difficult to do and means you can make flavours you can't usually buy in the shops and make use of fruit when it's in season and cheap.
I'm also a big fan of using things that are free so for this recipe I've used gooseberries from my garden and elderflowers which grow in hedges and woods at this time of year. Elderflowers have a lovely strong scent. If you are not confident about picking the elderflowers just use gooseberries. Gooseberries are a good choice for your first jam as they make a nice firm jam.
From beginning to end, this recipe takes about an hour including the washing up!
The gooseberries and elderflowers were free, the sugar cost 75p for 1 kg and the recipe made 6 jars of jam. That makes them 12.5p per jar although there will be a small cost for the energy to cook the jam.
This recipe is from one of my favourite books - River Cottage Handbook No. 2 Preserves by Pam Corbin. There are many types of jam recipes in the book.
Makes 5-6 x 340g jars
You will need a large saucepan and 6 empty and clean jam jars with lids, some wax discs and labels for the jars.
Before you begin:
place a small plate or saucer in the fridge
prepare your jam jars by washing in very hot water or putting through the dishwasher even if they are already clean
dry and sterilise the jam jars by putting them in an oven on about 100 degrees C while the jam is cooking
boil the lids for the jars in a pan of boiling water for 10 minutes. The lids can be dried in the oven along with the jars
Ingredients
1 kg gooseberries
Around 8 heads of elderflower
500 ml water
1 kg granulated sugar
Method
Trim the stalk and tail from the gooseberries and put into a large saucepan with the water.
Check the elderflower heads for any insects and then place on top of the gooseberries in the pan.
Cook gently until the berries are soft but still hold their shape.
Remove the elderflowers and discard in your compost bin.
Add the sugar, stirring gently to avoid breaking up the fruit, until the sugar has dissolved.
Turn up the heat to high and bring to the boil. Continue to boil for at least 10 minutes (this is called a rolling boil) without stirring, mine took 14 minutes so be patient. Boiling will cause what looks like scum to form around the end of the pan. This is just foam caused by air in the bubbles.
After 12-14 minutes, remove the saucer or plate from the fridge and with a spatula, drop a little jam onto the plate. Wait 1 minute and then push the blob of jam with your finger. If the jam wrinkles as you push it then the jam has reached 'setting point'. If it doesn't wrinkle, leave the jam to boil for another 2 minutes and then try again.
Once the jam on the plate wrinkles, remove the pan from the heat and leave to stand for 10 minutes.
You may want to skim the foam from the sides of the pan before filling the jars.
Remove your clean jam jars from the oven and using a funnel and ladle, fill the jars.
Cover the contents of each jar with a wax disc if you have then and screw on the lid.
Once the jars are cool, label the jars.
Use the jam within 12 months.
There are many reasons why I enjoy cooking at home, for instance I like the flexibility to use vegetables that I have grown in the garden. I also like to know what it is in my food and to eat (reasonably) healthily. Another reason is the cost of cooking your own food. It is nice to eat out for a treat and I appreciate that restaurants have overheads but I begrudge paying £10 for a main course, knowing that the ingredients cost £1!
All of the recipes I have posted so far should be fairly cheap to make. This week I posted a recipe for vegetable bolognese. The ingredients in the recipe should be enough to make four portions and I have roughly calculated the total cost of the ingredients (assuming lentils are used) to be about £1.61 which works out at 40p per portion! I used vegemince which is more expensive and makes the total cost £3.84 which works out at 96p per portion/person so still very cheap and much cheaper than a ready meal in the supermarket! I also used some goats cheese which was an additional £2, so 50p extra per portion. Here's a breakdown of the costs:
| | |
| --- | --- |
| 1 tablespoon olive oil | 10p |
| 1 onion | 10p |
| 2 cloves of garlic | 7p |
| 1 carrot | 6p |
| 1 stick celery | 5p |
| A few mushrooms | 20p |
| 2 bay leaves (if you have) | |
| ½ a bunch of fresh thyme or oregano or 2 teaspoons dried mixed herbs | |
| 75 g dried Puy lentils/can of green lentils | 27p |
| 2 tablespoons tomato purée | 10p |
| 400 ml vegetable stock | 11p |
| 1 x 400 g tin of tomatoes | 30p |
| 1 tablespoon soy sauce (if you have it) | 5p |
| 150 g wholewheat spaghetti | 20p |
| cheese (optional) | |
| Total | £1.61 |
I will try and remember to include the cost of the ingredients in future recipes to persuade you to cook your own, eat healthily and more cheaply! And the more you can grow yourself, the cheaper the meal becomes so check out Tiny Veg Patch for ideas.
This is another good recipe to use up veg in the fridge – parsnips, broccoli, pepper, courgettes can all be added if you have some that need using up.
To make this a healthier meal, swap white spaghetti with wholewheat spaghetti - I think it tastes better and is more filling.
The protein part of this meal comes from lentils. If you don't like or have lentils, replace them with vege mince as I did. If you use vege mince, reduce the amount of stock to about 150 ml and reduce the cooking time to 20 minutes.
Ingredients
1 tablespoon olive oil
1 onion
2 cloves of garlic
1 carrot
1 stick celery
A few mushrooms
2 bay leaves (if you have)
½ a bunch of fresh thyme or oregano or 2 teaspoons dried mixed herbs
75 g dried Puy lentils/can of green lentils or vegemince
2 tablespoons tomato purée
400 ml vegetable stock
1 x 400 g tin of tomatoes
1 tablespoon soy sauce (if you have it)
150 g wholewheat spaghetti
cheese (optional)
Method
Chop the onion, carrot and celery into small pieces, crush or chop the garlic cloves.
Gently fry the onion, carrots, celery and mushrooms and cook for 10 minutes, add garlic towards end.
Stir in the tomatoes, tomato puree, stock, soy sauce and lentils/vegemince and the herbs/bay leaf.
Bring to the boil, cover and simmer for 40 minutes or until the lentils are soft. Add extra water if the mixture dries out.
Season the sauce with salt and pepper and remove the bay leaf.
After 30 minutes start cooking the pasta. Boil water in the kettle then pour into a large pan. Put on a high heat until the water is boiling. Add the spaghetti and put a timer on (it usually takes around 12 minutes to cook – check the packet). It is done when soft but with a little bit of 'bite'. Drain in a colander.
Grate parmesan or cheddar cheese on top to serve (I used goats cheese).
This sauce can also be used as the base of a cottage pie. Instead of cooking spaghetti, transfer the sauce to a casserole dish and top with mashed potato and heat in the oven for 25 minutes or until the potato starts to turn golden.
Coleslaw is surprisingly easy to make and perfect to have alongside burgers, especially if you are able to make the most of the warmer weather by having a BBQ.
This recipe is healthier than the shop bought ones as the dressing is made with a mix of yoghurt and mayonnaise and by making it yourself you can add extra ingredients that you like.
Ingredients
½ cabbage, (white, green or red) shredded
2 carrots, scrubbed and grated
1 red onion or 4 spring onions, finely sliced
2 tablespoon mayonnaise
2 tablespoon plain yoghurt
Seasoning to taste
Method
Place the vegetables in a large serving bowl.
Make a dressing by mixing the yoghurt and mayonnaise together.
Toss the slaw with the dressing and season to taste with salt and black pepper.
For additional colour and taste I often add:
1 apple, peeled and grated
1 stalk celery, finely chopped
Small handful of walnuts, broken into pieces
but you could also add grated cheese, raisins or sultanas.
Serve on the side at a BBQ, alongside pizzas, in sandwiches, etc.
If you fancy having a go at making your own veggie burgers, I will post a recipe here soon.
Here's an easy recipe to make your own healthy and tasty pasties with whatever veg you have available. Mine are never going to win a beauty contest but they taste delicious!
If you haven't made pastry before, give it a go. If you are finding it difficult to buy flour at the moment you can use ready made pastry, found in the chiller cabinet in the supermarket. Shortcrust pastry is traditionally used for pasties.
Pastry Ingredients
250g plain flour
A pinch of salt
125g chilled butter, cut into small cubes
About 80ml cold milk or water
Pastry Method
The secret to good pastry is cold ingredients (and hands!) and NOT over working the dough – only handle it enough to just bring together.
Put the flour and salt in a medium size bowl.
Add the butter and rub in with your fingertips, until the mixture looks like fine bread crumbs.
Mix in the milk, a little at the time, until the pastry just comes together, then turn onto a work surface and bring it quickly into a ball – do not knead!
Wrap and chill for at least 30 minutes in the fridge while you prepare the filling.
Filling Ingredients
2 spring onions or 1 small onion, finely chopped
1 tablespoon olive oil
Mixture of vegetables, peeled and diced into 1 cm cubes: root vegetables work particularly well - carrots, potatoes, beetroot, parsnips, swede but also peas, beans, etc
Small handful of green leafy veg like kale or spinach, shredded
50 - 75 g cheese - strong cheddar, grated or goats cheese or feta cut into cubes
Herbs: thyme or oregano are nice
Cannellini or other beans (optional but add protein to the pasties)
Salt and pepper to season
Filling Method
Heat oven to 180C/160C fan/gas 4.
Line a baking tray with baking parchment.
Mix the filling ingredients in a bowl.
Roll out the pastry on a floured surface, cut the pastry into 6 pieces. Roll out each into a circle. If you like things neat you can use an upturned saucer to cut around to get a perfect circle. You want the pastry to be about 2 - 3 mm thick (about as thick as a pound coin)
Divide the filling between the circles.
Wet the edges of the circle with water. Bring the edges up to meet each other, and press together to make a fluted edge. Keep going till you have used everything up.
Place the pastries on a baking tray and brush with a little milk.
Make a hole in the top of each with a small sharp knife
Bake for about 35 minutes or until golden brown.
These can be eaten hot or cold. If you save some for the next day you can warm them up in the oven for 20 minutes or so until piping hot. They also freeze well – you can cook then from frozen but add another 10 minutes or so to the cooking time.
You can invent your own fillings – just use what you have to hand. Cooked bacon adds a good flavour or try carrot, onion and cheddar cheese or chicken, leek & mushroom.
Stuck for meal ideas? Bored with the same old meals? I'm always on the look out for new and interesting recipes! Here's my scrapbook of recipes made up from supermarket recipe cards, recipes in magazines, shared by friends and online websites - these are my tried and tested recipes that never fail. Start your own scrapbook of favourite recipes!
And don't forget - we have lots of lovely recipes on the Food4Families website!
Here's a really easy recipe I found in a magazine in my pharmacy.
Ingredients
1 x 400g tin of butter beans, drained and rinsed
1 small ready cooked beetroot (vinegar free)
1 tsp ground cumin
1 tbsp olive oil
1 tbsp lemon juice
1 garlic clove, finely chopped
pinch of fine sea salt
Blend all the ingredients together in a food processor
Delicious served with a selection of chopped or sliced fresh veggies such as carrots, peppers, cucumber, olives and crispbreads, bread or breadsticks for a healthy lunch. Alternatively, use in sandwiches or as a jacket potato filling.
When planning meals I try and include one meal a week which is made up of ingredients that I have in the cupboard, so that if our plans change we won't be left with loads of fresh ingredients that might get wasted. An example of this would be a lentil dahl which uses dried lentils, carrots and onions which I always have on hand, spices which I always have and rice which is a store cupboard essential. This meal is also useful if you are between shopping trips and don't have many fresh ingredients available.
Tip: With fruit and vegetables, the most nutritious part is just under the skin so for example when using carrots in recipes try scrubbing them with a nail brush rather than peeling them. I keep a nail brush just for scrubbing veggies.
Here's my tried and tested lentil dahl recipe which will serve 4 people. It's another flexible recipe so you can use whatever you have. I often add extra vegetables if they need using up so when I made this recently I added a chopped sweet potato and chard from the garden.
Ingredients
1 tbsp vegetable oil
1 onion, finely chopped
2 cloves of garlic, finely chopped
2 small carrots, finely diced
Handful of kale, spinach or chard, shredded.
2 cm piece of fresh ginger, peeled and finely diced
2 tsp cumin seeds
2 tsp mustard seeds
1 tsp ground turmeric
2 tsp garam masala
1 tsp chilli powder
200g split red lentils
400ml can of coconut milk
400ml stock
4 fresh tomatoes, chopped or 400ml can of chopped tomatoes J
Juice of 1/2 lime (I buy lime juice in a bottle rather than fresh limes which don't keep as long)
2 tbsp fresh coriander, roughly chopped
salt and black pepper
Method
Heat the oil in a large saucepan and fry the onion for 8 minutes until softened.
Add the garlic, carrot, ginger, cumin and mustard seeds.
Cook for 5 minutes, stirring, until the carrot begins to soften.
Stir in the ground spices and cook for 1 minute.
Add the lentils, coconut milk, tomatoes and stock, stir well.
Bring to the boil, then reduce the heat and simmer, covered, for about 25 minutes, stirring occasionally to prevent the lentils sticking.
Add the shredded greens and simmer for a further 10 minutes.
Add 1-2 tablespoons of lime juice and half the coriander, season to taste and cook for another 5 minutes.
Serve sprinkled with the remaining coriander.
Serve with rice or naan and a green vegetable like broccoli. I often serve with roasted cauliflower - I find that roasting vegetables is a great way of getting fussy eaters to eat veggies.
The recipe works with most vegetables but broccoli, carrots, and even sprouts roast really well and you can of course roast a mix of vegetables.
Ingredients
3 tbspn vegetable oil
1 cauliflower, trimmed and chopped into medium chunks
lemon juice
1/2 tsp paprika or chilli powder
salt and pepper
Method
Preheat the oven to 200 degrees C
Cut and rinse the cauliflower, leaving some water clinging to the florets
Put them in a large roasting tin
Trickle over the oil and 2 tablespoons of lemon juice
Sprinkle over the paprika or chilli powder
Season with salt and pepper
Toss the mixture to coat in the oil and lemon juice
Roast for 25-30 minutes, turning over half way.
When ready, sprinkle over another tablespoon of lemon juice and serve
Fresh herbs are expensive to buy in the supermarket and often come packed in plastic. It's worth having a few pots of herbs in the garden or on a balcony. Some herbs I find useful and have growing in my garden are:
| | |
| --- | --- |
| | |
| Rosemary - the bees love the flowers too! | Thyme |
These are easy to grow and many herbs will grow year after year - check out Naomi's https://www.food4families.org.uk/TinyVegPatch.cfm to see how you could grow them yourself.
As promised, here is another really easy recipe that uses yeast to make a delicious bread to go with soup. It makes use of fresh herbs which always have a better flavour but dried will work too if you don't have any fresh herbs handy.
Ingredients
100 ml olive oil
2 garlic cloves, crushed and finely chopped
1 tablespoon chopped fresh thyme or 1 teaspoon dried
1 tablespoon chopped fresh rosemary or 1 teaspoon dried
¼ teaspoon fresh ground black pepper
200 ml warm water
2¼ teaspoons active dry yeast
¼ teaspoon honey
315 grams plain flour
½ teaspoon fine sea salt
Make Dough
In a frying pan, combine olive oil, garlic, thyme, rosemary, and the black pepper. Place the pan over low heat and cook, stirring occasionally, 5 to 10 minutes or until aromatic, but before the garlic browns. Set aside.
In a large bowl, combine the warm water, yeast, and honey. Stir a few times then let sit for 5 minutes.
Add 100g of the flour and a 60 ml of the infused garlic-olive oil mixture to the bowl with yeast and honey. Stir 3 to 4 times until the flour has moistened. Let sit for another 5 minutes.
Stir in the remaining 215g of flour and the salt. When the dough comes together, transfer to a floured board and knead 10 to 15 times until smooth.
Transfer the dough to a large oiled bowl, cover with a plate or tea towel and let rise for at least 1 hour, 2 hours is better. It's best to let the dough rise in a warmer area of your kitchen.
Bake Bread
After 1-2 hours, heat the oven to 200 deg C
Use two tablespoons of the remaining garlic-olive oil mixture to oil a 9-inch by 13-inch rimmed baking sheet.
Transfer the dough to the baking sheet then press it down into the pan. Use your fingers to dimple the dough then drizzle the top with the remaining 2 tablespoons of the garlic-olive oil mixture.
Let the dough rise for 20 minutes until it puffs slightly.
Bake until golden brown, 15 to 20 minutes.
Cool the baked focaccia bread on a wire rack.
And if you have enjoyed making your own pizza dough and focaccia bread, the BBC website has lots of ideas on how to bake different bread based things here: How to make bread without yeast or bread flour
Gardeners often call this time of year the 'hungry gap' because winter vegetables are finishing and the spring crops are not ready yet. Winter crops include leeks, parsnips, carrots, swede, turnips, beetroot, cauliflower, cabbages such as savoy and everyone's favourite - sprouts!
Vegetables that are starting to come into season include spring greens, kale, radishes, rhubarb, rocket, spinach, spring onions.
Check out the Tiny Veg Patch for ideas of things that can be grown now.
Here's a delicious recipe for a rhubarb and custard cake:
This is a lovely moist cake that makes the most of rhubarb when it is in season in spring.
Ingredients
200g rhubarb (roughly 3 sticks)
50g sugar (demerara if you have it)
3 eggs
150g margarine
150g caster sugar
100g self-raising flour
100g ground almonds (or use more flour if you don't have ground almonds)
60g custard powder
½ teaspoon almond essence (optional)
Icing sugar to finish
Method
Preheat the oven to 180C/gas mark 4
Line the base of a 20cm loose bottom round cake tin with baking parchment. Grease the sides.
Place the rhubarb in a pan with the Demerara sugar. Cover and cook gently for 5-10 minutes, stirring every minute or so, until the rhubarb is just going soft – be careful - it is easy to overcook the fruit at this stage!
Cream together the margarine and sugar until pale and fluffy.
Continue to beat, adding the eggs one at a time along with a spoonful of flour.
Fold in the flour, ground almonds if using and custard powder
Loosely fold in the cooked rhubarb then spoon into the prepared tin
Bake for approx. 45-50 minutes until slightly browned and firm to touch
Leave in tin for 5-10mins, then turn out & leave to cool
Once cool, dust with icing sugar then cut into slices to serve.
This is lovely just warm out of the oven served with custard. Stored in an airtight tin it will keep for a few days (if it lasts that long – in my house it never does!)
I always find it really useful to plan my meals in advance and I plan a week or sometimes two weeks to help me use the vegetables I have.
Here's what I do:
Firstly I look in the fridge to see what I have left over to use up.
Then I check the garden to see what I can use.
Then I create a list of the days of the week and ideas for meals
Tip: I use a little notebook where I jot down ideas for meals as I think of them and a list of items as I use them up so I am building my next shopping list as I go
I make a shopping list so I only need to buy what I am going to use.
Because of the current situation what I order isn't always what turns up so sometimes a bit of improvising is called for so it is good to use recipes where ingredients can be swapped for others, for example when making a vegetable soup - if you can't get broccoli, use cauliflower instead, can't get leeks, use onions, etc.
Ingredients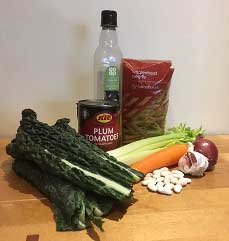 1-2 tablespoons olive oil
1 onion, peeled and chopped
1 carrot, diced
2-3 cloves garlic, crushed or chopped finely
400g fresh tomatoes, chopped or a 400g tin of tomatoes
around 500 - 750 ml chicken or vegetable stock
small handful of peas
2-3 small potatoes or a small handful of pasta – small shapes work best
a handful of green leafy vegetable such as spinach, chard or kale, chopped
400g tin of chickpeas or beans, drained and rinsed
2-3 heaped teaspoons of pesto, to taste
A few parsley stalks if available, chopped finely
Optional - celery, fennel, courgette, borlotti or cannellini beans
Method
Heat the oil in a large pan over a medium heat for 1 -2 minutes
Add the onions and carrots (and celery and fennel if using)
Lower the heat and fry gently until the vegetables are nice and soft – about 5-10 minutes.
Add the garlic and fry for 1 minute.
Add the tomatoes and stock and cook for another 10 minutes or so (or longer if you have time at home).
Add the peas, chickpeas/beans, pasta, green leafy vegetables and pesto.
Simmer for a further 10-15 minutes – the pasta should be cooked. Add more stock if the soup is too thick at this point
Add the chopped parsley, stir and serve.
This keeps well for 2-3 days in the fridge - if anything the flavour gets better!
This bowl of hearty soup has been made during the lock down by one of the cookery students from the last course. It looks delicious!
Last night we had an easy meal of sausages and mash with carrots and peas from the freezer - no need for a recipe for that meal. When peeling potatoes I make sure I peel plenty for another meal at the same time. I also cooked extra vegetables too so today I am going to make my favourite version of a classic - bubble and squeak. Traditionally bubble and squeak is made from mashed potato and brussel sprouts or cabbage but you can use any leftover vegetables you have. It's a great dish to hide vegetables from fussy eaters!
Ingredients
1 tablespoon vegetable oil
1 onion, finely diced
2 cloves of garlic, crushed and sliced
Leftover mashed potato
Leftover vegetables (about half vegetables to potato) I used peas and carrots and kale but go with whatever you have
1 teaspoon medium curry powder
Salt and pepper
Method
In a large frying pan heat the vegetable oil over a medium heat and add the onion.
When the onion starts to soften and turn golden, add the garlic.
Fry for 1-2 minutes.
Add the curry powder and stir to coat the onion and garlic.
Turn the heat up to high.
Add the potatoes and vegetables to the pan and mix with the onion and garlic and salt and pepper until well mixed together.
Press the mixture down into the pan and leave for 7-8 minutes.
Turn the mixture over - the bottom should be beginning to brown. If not, leave for another 1-2 minutes and check again.
Once the bottom has started to turn brown, turn the mix over and and press down into the pan and cook for a further 7-8 minutes.
Serve with baked beans or a poached egg.
Here's a recipe for a simple rice dish - you can add whatever vegetables you happen to have available - for example mushrooms work well and are available all year round. It uses a type of rice called arborio or risotto rice.
The grains of this rice are shorter and fatter than long grain varieties and are especially good at soaking up the water that you cook them in. The grains have a creamy texture when cooked. It's worth buying a packet of this rice as it stores in the cupboard and then you are always ready to make a risotto as a quick and easy mid-week meal.
This recipe uses broad beans and peas from the freezer but I also make a version that uses pre-cooked beetroot and a soft, mild and creamy goats cheese.
One of the students on the last cookery course has since made a risotto using peas and cooked chicken!
Broad Bean and Pea Risotto
This risotto uses a handful of ingredients and a simple method. Serve with a salad with a lemony dressing as a contrast to its richness. The recipe is from the BBC GoodFood website which is a great place to look for ideas.
Ingredients
Around 750 ml chicken or vegetable stock
2 tablespoons olive oil
1 onion, chopped
A big handful of peas
A handful of broad beans, shelled
A good handful of chard or spinach, washed and chopped
Small bunch of parsley, chopped
150g risotto rice, such as Arborio
30gm parmesan cheese or 40gms strong cheddar
Lemon juice
Method
Wash and chop the onion, spinach and parsley.
Boil a kettle, then simmer the broad beans in hot water for 2 minutes. Allow to cool so that you can peel off the outer grey skin - you want the fresh green bean inside.
Make the stock in a jug.
Heat the oil in a large saucepan. Add the onions and cook over a low to medium heat for 5 minutes until soft.
Add the rice and stir until all the grains are coated in the oil.
Add about a third of the stock, stir then leave for a few minutes. As the rice soaks up the stock, add another third of the stock, stir and leave for a few more minutes.
Continue like this for about 20-25 minutes, stirring occasionally, until the rice is creamy and tender but still has a little bite. Stir in the broad beans and spinach a few minutes before the end.
Add the fresh peas, grated parmesan (or other cheese), the lemon juice and the chopped parsley. Mix in and serve.
Tip: If you have leftover risotto, you can save it for re-heating the next day or you can freeze it. To save cooked rice safely, cool the leftover risotto down by standing the saucepan or if you have transferred it to a dish, the dish in a bowl of cold water. Check the temperature of the water after a few minutes and when it is warm, replace with more cold water. You may need to do this 2-3 times but it is important to cool the cooked rice down quickly - it needs to be cooled down sufficiently to be put in the fridge within 2 hours of being cooked. Once it is cold, store in the fridge in a covered container or freeze (make sure you label it before putting it in the freezer - I have a selection of miscellaneous leftovers in the freezer which often lead to 'dinner surprise'!). To re-heat, warm up in a microwave or put it back in a saucepan and heat gently on the hob. You will need to add more water as the rice will have soaked up all the remaining stock.
To get us started I had a look at what I had in my fridge to use up - I have some red peppers, some mushrooms, some cheese and some tomato puree and in the freezer I have some frozen sweetcorn and peas.... sounds like we have everything we need to make a pizza!
Pizza Dough
Here's a simple recipe for the pizza dough - it uses just a few ingredients that you may already have in the cupboard. If you don't have any, it's worth buying a tub of dried active yeast - most supermarkets and even some smaller corner shops sell it. It keeps for ages in the cupboard and means you are always able to make bread dough. I will include another recipe later in the week that also uses yeast.
Makes 3 pizzas
Ingredients
250g plain white flour
250g strong white flour (this flour is especially for making bread)
1.5 level teaspoons fine sea salt
1 teaspoon instant dried yeast
1 tablespoon olive oil + extra for oiling
325 ml warm water
In a large bowl mix together the two flours, salt and yeast. Add the oil and the warm water and mix together with a fork or your hands to form a sticky dough.
Tip the dough out on to a work surface dusted with flour and knead (push with the heel of your hand and pull the dough) for 5-10 minutes until the dough is smooth and stretchy. Try not to add any extra flour if you can help it.
Trickle some olive oil into a large clean bowl, add the dough and turn the dough so it is covered in the oil. This will stop it sticking to the bowl and drying out. Cover the bowl with a plate or clean tea towel.
Leave for 1-2 hours to rise. I often make my dough in the morning and leave it to rise on the side in the kitchen all day.
When you are ready to make your pizza tip the dough out on to a work surface and poke it all over with your fingers to flatten it. Divide into 3 pieces and roll or stretch out onto baking paper to fit your baking trays.
Heat your oven to 220 degrees C, put the baking trays you will be using in the oven to heat up - this helps crisp up the base.
I use tomato puree as the tomato base - I squeeze dollops of puree onto the dough and spread with the back of a spoon.
Add whatever vegetables you have available - I added red pepper cut into strips, mushrooms cleaned and sliced, olives cut in half, some sweetcorn and peas from the freezer, defrosted in the mircrowave before adding, feta cheese (I didn't have any mozzarella) cut into cubes and jalapenos from a jar as my partner likes his pizza spicy!
When the oven is up to temperature, take one of the baking trays out and slide the pizza on its baking paper onto the tray - you may need an extra pair of hands with this bit!
Repeat with the other pizzas.
Cook for about 14 minutes - they may need longer depending on what you've put on your pizza but they are done when the dough is golden brown.
Serve with a salad and some coleslaw (there is a recipe for coleslaw in the Recipes section).